The 2015 South Beach Wine & Food Festival hosted by Food Network & Cooking Channel was a tremendous success last month. The Director's VIP Happy Hour was a fantastic kick off to a pleasurable weekend of aromatic wines and delectable culinary artistry.
The event was held atop The Betsy hotel rooftop where Miami's bipolar "winter" chilled us locals with a mere 60° F. No matter. There was wine to warm us up. The Happy Hour featured Whispering Angel, a crystal pink rosé with a harmonious blend of red berry, jasmine, and lemon flavors that decorated the tongue. The wine paired perfectly with the tiny fish tacos that hovered about thanks to the charming wait staff.
On the opposite side of the rooftop entrance we found exquisite bites, courtesy of the Four Seasons Hotel. The Yellow Fin Tuna Tostado created quite the buzz. A drizzle of spicy wasabi sauce enhanced the soft, tuna tartar accompanied by a crispy tostado.
Another yummy taste of seafood followed with the Spiced Shrimp and Octopus Clamato. With a red, salted rim, the spicy tomato Clamato bathed a medley of succulent shrimp and octopus.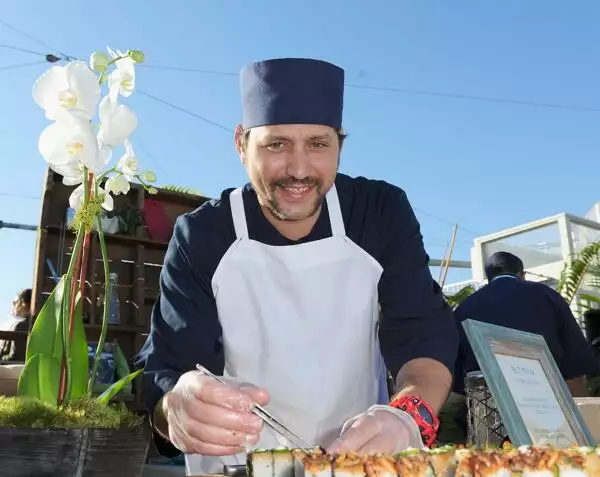 The Betsy's BLT Steak restaurant entertained with the art of Sushi making. Spicy tuna with crisp tempura, yellowtail with a thin slice of jalapeño, and salmon and cream cheese with a dot of spicy mayo. Spectators gathered for the performance resulting in a colorful trio of fresh Sushi.
The hors d'oeuvres presented exciting variety. The shredded beef poppers were a hit. The beef came apart in your mouth divulging notes of delightfully stinky cheese hidden in the blend. The miniature bread bowl had a crunchy exterior, flaky and buttery, but the inside was soft and hugged the tender meat it was escorting past one's teeth.

Beside the Sushi station, there was another hot booth to which attendees flocked. Botran Reserva Rum was passing around the Botran mule. In this cocktail, the aged rum blended with a drip of simple syrup, a fresh squeeze of lime, and a splash of ginger beer. The explosive and slightly sweet drink highlighted the liquor's toasted oak and light fruit flavors. A wonderful end to a lively happy hour.