On a Tuesday afternoon, Mr. H and I got together for an informal lunch at BJ's Brewhouse, a new restaurant at The Falls Shopping Mall in South Miami. This was a good-looking restaurant; vast and decorated with dark wood furniture and huge windows that allowed us to observe the passersby as we nibbled on the food.
Chicken Quesadillas ($5.95 lunch special)
We started out with the Chicken Quesadillas which were stuffed with grilled marinated chicken, green chilies and jack and cheddar cheese; all of this drizzled with an avocado cream sauce and sprinkled with cilantro. The quesadillas were very flavorsome and the fire-roasted tomato salsa, sour cream and black beans that came with the order were quite tasty.
Chicken Tortilla Soup ($5.75)
Next Mr. H. tried the chicken tortilla soup. It was topped with crisp tortilla strips, diced avocado, jack and cheddar cheese and drizzled with lime. The soup was really not pretty to look at and even though the toppings were fantastic, the soup itself was rather lackluster and nothing special.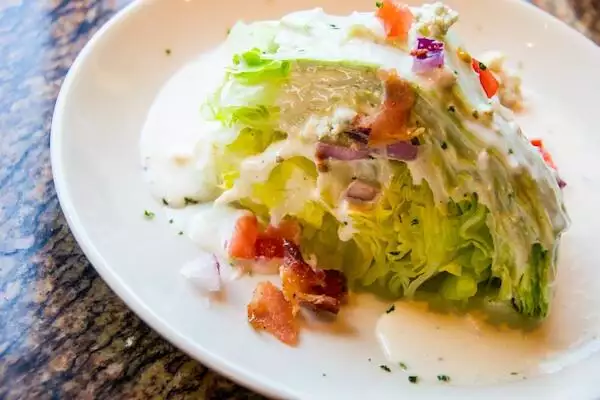 Wedge Salad ($5.50)
We had a wedge salad on the side that had a quite interesting presentation: a massive wedge of lettuce showered with salad dressing and garnished with bacon, red onions, tomatoes and cheese. It was refreshing and cooling. I am going to try this at home for sure.
Mahi-Mahi tacos ($10.50)
Finally came the Mahi-Mahi tacos. Mahi-Mahi is a tropical, warm water and full flavored fish. The meat is firm, which makes it quite versatile for grilling, deep-frying or stir-frying. In this case, the fish was chargrilled and served with chipotle mayonnaise, Santa Fe dressing, Napa cabbage, carrots, red onion and cilantro. The dish was served with multi-colored tortilla chips, avocado cream sauce and fire-roasted tomato salsa. The tacos were good, but not spectacular. The dish was nicely presented though and the portions were generous.
BJ's is a chain of restaurants that first started in California as a deep-dish pizza joint. It is now expanded and eventually introduced fine hand-crafted beer and new items to the menu and now the BJ's brand has expanded across the US. Today the menu is huge and includes small dishes like the ones we tried and culinary creations that include pastas, burgers, Grilled Pork Chops, Baby Back Pork Ribs and Miso Salmon among other entrees. You'll find several regular beers on tap at every BJ's, plus several seasonal or specialty beers.
The BJ's we visited was located in The Falls in Miami. It was quite full for a Tuesday and definitely kid-friendly. The service was wonderful, the ambience casual and cheery, the prices reasonable. Would I go back? Not really sure. Even though the menu is enormous, the items are typical of chain restaurants and there was nothing on it that could lure me back there anytime soon.
BJ's Brewery and Restaurant
The Falls
8888 SW 136th St.
Miami, FL 33176
305.251.7550
www.bjsbrewhouse.com
By Contributor Writer and Photographer Brenda Benoit