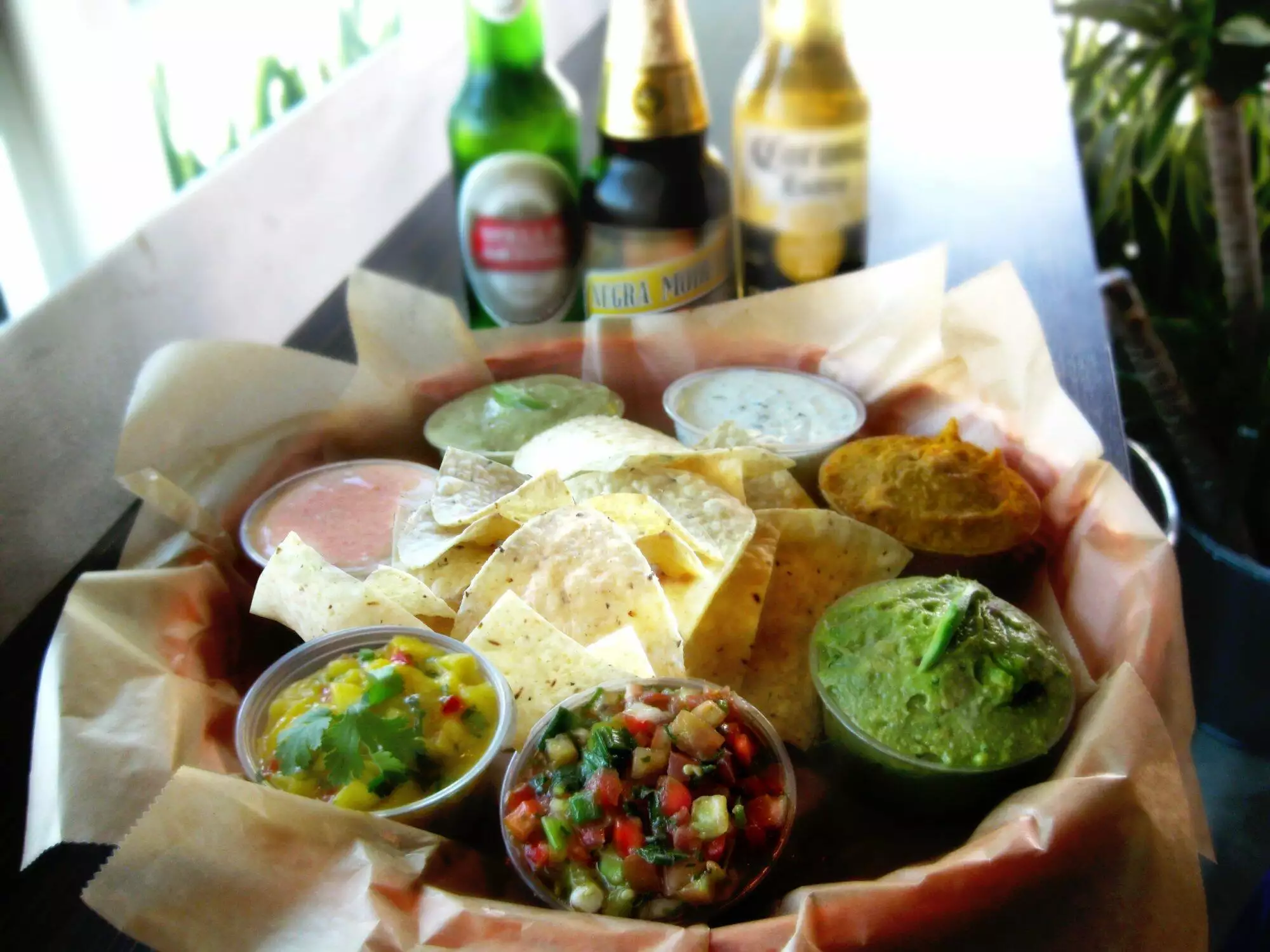 Merriam Webster defines fresh (food) as having its original qualities unimpaired, not altered by processing. I certainly experienced what fresh really means at Salsa Fiesta, a contemporary restaurant on Biscayne Boulevard in downtown Miami. Mexican food is widely offered anywhere you go. Mexican cooking is well-known for its varied flavors, multicolored decoration and exotic spices. I was not sure what to expect from Salsa Fiesta, what I did know, their website did not have the typical chihuahua dogs or a sombrero with the nation's colors
To start I ordered a Boylan Cane Sugar, Black Cherry, a lovely, revitalizing drink. Established in 1891, Boylan uses cane sugar in their drinks, a great and healthy choice. Then I ordered a Salsa Sampler, a great idea for a group event, a little of every salsa on their menu. Each salsa has its own unique flavor. I can sit here and write oodles about each one; overall the Mango Relish has a sugary, with a refreshing tangy flavor. Their signature dip, Hot Tamale Salsa, is remarkable. Yes, this is not the well known corn-based tamale, this one is not wrapped or filled with meats but it has a velvety sweet-hot flavor. I would positively come back just for this salsa. It's innovative and exciting to be introduced to new dishes.
Then came the Tostada Fiesta, which is a crispy flat corn tortilla, loaded with black beans, lettuce, pico de gallo, guacamole, sour cream, fresh cheeses served with a taquito, pico de gallo salad and tostones. When I say loaded, I mean brimming over with all of the mouth-watering foods described. Every ingredient item on the menu is magnificently prepared and laid out perfectly. The Tostada is crispy and crunchy, the semi-mashed black beans has a smooth-chunky texture, crisp lettuce, basically crisp, buttery, crisp and just delightful with every mouthful.
My favorite dish was the Tostones Fiesta. I found it irresistible, the ideal of melted cheese on tostones. The tostones had a hint of sweetness with the sharp cheeses that make it a perfect contrast taste. This is reminiscent of a typical Caribbean dish combining sweet with savory.
What a pleasant, friendly, and helpful staff! And as if the food was not the best Mexican food I've had in a while, the service was superb. Artemisa Aguilat is the general manager, as she spoke to me and showed me around, she displayed so much passion. She spoke about how the food was prepared, and the general knowledge of Mexican cuisine. My first experience of Salsa Fiesta was indeed a memorable one.
I was seriously very impressed that the owner and Executive Chef Cesar Olivo, decided to use biodegradable utensils for the restaurant. Biodegradable items are connected with environmentally friendly products because they can break down by natural progression. Also products based on natural ingredients are more, but not always, likely to be safer and degrade easier. This is just another reason to visit this restaurant, not just the great food, but as consumers, we can help the culinary industry and the environment. The place, the food and the service were all fantastic. I will be going there again and I hope to see you all there.
Salsa Fiesta
2929 Biscayne Boulevard
Miami, FL 33137
www.salsafiestagrill.com
(305) 400-8245