Romantic Things To Do in Miami
Miami, the vibrant coastal city known for its beautiful beaches, lively nightlife, and diverse cultural scene, offers an array of experiences that are tailor-made for couples seeking an unforgettable romantic getaway. Whether you're strolling hand in hand along pristine beaches, embarking on a romantic Biscayne Bay cruise under a dazzling sunset, or indulging in world-class cuisine, Miami has something for every couple looking to create fun and exciting memories together.
Read on for our curated list of fun things to do in Miami for couples, including brushes with tropical wildlife, explorations of the city's culture, art, and history, and culinary journeys through vibrant neighborhoods like Little Havana, South Beach, and beyond. 
The Best Fun Things To Do in Miami For Couples
1) Explore the Cuban-American experience on a food & culture tour of Little Havana.
Embark on a culinary and cultural adventure with your loved one by taking the Little Havana Food & Cultural Tour, presented by Miami Culinary Tours, and immerse yourself in the vibrant flavors that define this iconic Cuban community. This globally recognized tour takes you on a journey through the heart of Little Havana, where you'll have the opportunity to sip authentic Cuban coffee at a traditional walk-up ventanita. Witness the artistry of a skilled torcedor as they expertly roll world-renowned cigars. Indulge in the best homemade Cuban sandwich you'll ever taste. Along the way, you'll learn fascinating insights about the history of the Cuban exile community.
Book the Original Little Havana Food & Culture Tour, the #1 Rated Experience in Miami!
2) Book a room and spa day at the historic Biltmore Hotel.
Escape to the enchanting Biltmore Hotel in Coral Gables for a romantic getaway that's straight out of a bygone era. Dating to 1926, this majestic Mediterranean revival hotel has a rich history, hosting luminaries and legends throughout the decades. Step into the lobby adorned with hand-painted frescoes, carved mahogany furniture, and gilded bird cages filled with chirping tropical birds. A recent renovation has seamlessly blended old-world charm with modern amenities, making their plush rooms the height of comfort and elegance. While you're there, enjoy an amazing meal in the verdant courtyard, play a match on the tennis courts, or tee off at the championship golf course. Don't miss the world-class spa's rejuvenating, couples' treatments, or a dip in the colossal pool, the largest in the eastern United States.
3) Escape the city at Fairchild Tropical Botanic Gardens.
Hey lovebirds, get ready to have a bloomin' good time at the Fairchild Tropical Botanic Gardens! It's the perfect place to escape the city chaos and embrace the tranquility of nature with your other half. As you wander hand in hand through the 83-acre garden, enjoy the incredible variety of tropical plants like exotic fruit trees, succulents, and jade vines. There's even a 25,000-square-foot butterfly house where these colorful critters put on a dazzling show. When the sun sets and the stars come out, don't miss the magical night garden. It's like stepping into a fairytale wonderland where romance blooms under the moonlight
4) Get some retail therapy at Bayside Marketplace.
Prepare for a playful and charming shopping adventure with your partner at the vibrant Bayside Marketplace in downtown Miami. This lively open-air mall is a must-visit destination, offering a delightful mix of well-known stores and unique boutiques to explore. The highlight of Bayside Marketplace is the iconic Skyviews wheel. Take a romantic ride in one of the 42 gondolas, especially at night, when the city lights twinkle like stars. Marvel at the breathtaking views of the Miami skyline and the glistening waters of Biscayne Bay. After your shopping adventure, take in a Miami Heat game at the nearby Kaseya Center.
5) Discover Miami's iconic cuisine & Art Deco architecture on a food tour of South Beach.
Immerse yourselves in the rich history of the Art Deco period and the best of Miami's renowned Latin-American cuisine on the South Beach Food & Art Deco Tour, thoughtfully curated by Miami Culinary Tours. Stroll hand in hand along the iconic Ocean Drive, and hear the alluring tales of beachfront hotels immortalized in Hollywood movies amidst the vibrant pastel and neon ambiance of South Beach. Savor the exquisite flavors of Cuban classics like beef empanadas and ropa vieja served on crispy, fluffy tostones. Stick around after the tour to walk the famous beach together, then later take in some of South Beach's famous nightlife.
Join Us on Our Popular South Beach Food & Art Deco Tour!
6) Get hands on with some furry friends at the Zoological Wildlife Foundation.
Looking to unleash your wild side with your partner? Look no further than the Zoological Wildlife Foundation (ZWF)! It's like a zoo, but with a playful twist where you and your boo can get up close and personal with the cutest lion cubs, jaguar cubs, and a bunch of other adorable creatures. This foundation is all about rescuing at-risk animals and spreading awareness about endangered species. So, while you're having a blast, you're also doing some good for our furry friends. The ZWF is a sustainable and conservation-based zoo. That means all the proceeds go towards wildlife protection and education. You have to pre-book these interactive encounters to hold, cuddle, and learn about these remarkable creatures. It's a date you and your partner won't soon forget.
7) Enjoy a romantic dinner at Le Bouchon in Coconut Grove.
Tuck in for a romantic dinner date at Le Bouchon in Coconut Grove, a cherished gem that exudes cozy French bistro vibes. Picture yourselves seated at wooden tables amidst the dim lighting, enjoying warm and familiar service. When you arrive, you're welcomed with complimentary champagne before you begin savoring fresh, gooey cheese and decadent foie gras for a dash of classic romance. The generous portions of comforting French dishes invite sharing, making it perfect for an intimate evening. Afterward, take a moonlit stroll through the enchanting streets of Coconut Grove, perhaps stopping for coffee or indulging in artisanal ice cream. Le Bouchon sets the stage for a truly unforgettable date night experience.
8) Learn to dance salsa at Ball & Chain on Calle Ocho.
Heat up the dance floor and sway those hips like nobody's watching at the legendary Ball & Chain on Calle Ocho. This lively venue has been grooving since 1935, and it's still the go-to spot for the best live salsa and jazz in Miami. If you're new to salsa, there are free salsa lessons every Thursday night where the talented instructors will guide you through the steps and make you feel like you've been dancing for years. It's a night of rhythm, laughter, and unforgettable moments.Don't forget the delicious food and cocktails that will keep you energized throughout the evening. Put on your dancing shoes, grab your sweetie's hand, and let the Latin rhythms get your hips moving and your hearts pounding.
Explore Calle Ocho on Our Little Havana Food & Cultural Tour!
9) Take a cruise around Biscayne Bay.
Set sail with your sweetheart on a romantic cruise through Biscayne Bay. Cruise past Millionaire's Row and other beautiful waterfront neighborhoods, offering glimpses of luxurious mansions on Star Island and Hibiscus Island. Choose a daytime voyage or opt for a sunset trip, where love and romance dance on the shimmering waters of Biscayne Bay. As the sun begins its descent, raise a glass of champagne and toast to the breathtaking Miami skyline with the one you love. There are a number of tour operations that offer all kinds of cruises, from public tours on large boats to private yacht charters.
10) Step back into Miami's Gilded Age at Vizcaya Museum & Gardens.
Escape the ordinary and immerse yourselves in the history and beauty of Vizcaya Museum and Gardens, nestled in the heart of Coconut Grove. Built between 1914 and 1922 by industrialist John Deering, Vizcaya is a tribute to the grandeur of the Gilded Age. The Italian-style villa is now a museum, showcasing a treasure trove of artworks and antique furniture. Once you've toured the estate, roam the meticulously manicured gardens, where blooming roses, delicate orchids, and tranquil water features create a picturesque backdrop, the ideal spot to capture some memorable snapshots of your time together. Keep an eye out for Vizcaya's special nighttime events, like lively Roaring '20s parties or moonlit strolls in the garden, unique experiences that add a touch of magic to your visit.
11) Cheer on the Miami Heat at Kaseya Center.
Gear up for a playful and charming date night at the Kaseya Center in downtown Miami right on Biscayne Bay. This sleek and stunning facility has been home to the NBA's flashiest and most celebrated team, known by many adoring locals as "El Heat." Before the game, take a stroll along the plaza overlooking the bay, and enjoy the ambiance of the 601 restaurant while mingling with fellow fans. Indulge in a variety of delicious food options throughout the arena, from classic Latin favorites like Cuban sandwiches and street tacos to gourmet grilled cheese sandwiches and mouthwatering mojo donuts. Sip on craft beers from local breweries like Biscayne Bay Brewing and J Wakefield, or savor refreshing margaritas from the Bodega Taqueria.
12) Take a guided tour of the Wynwood Walls, a landmark of contemporary street art.
Dive into the trendy Wynwood neighborhood on the Wynwood Food & Art Tour from Miami Culinary Tours. You and your sweetie will explore the coolest and fastest growing district, where contemporary dining mingles with mind-blowing murals and graffiti galore. Enjoy an array of inventive and diverse dishes, masterminded by genius chefs in hip local joints. Discover hidden murals and jaw-dropping street art that'll leave you and your sweetheart swooning. To end this adventure on a sugar-coated high note, indulge in desserts crafted by pastry superheroes, including the legendary "best pie on the planet."
See Miami's Hippest Neighborhood on Our Wynwood Food & Street Art Tour!
13) Indulge in the best contemporary fine dining with the tasting menu at Zitz Sum.
If you and your squeeze are looking for the newest and best dining in Miami, book a table at Zitz Sum, the funky 60-seat restaurant in Coral Gables that serves as chef Pablo Zitzmann's rebellious ode to his own multifaceted influences. His restaurant offers a unique space where dim sum meets izakaya and Italian collides with Asian. The ever-changing tasting menu ensures a unique experience with each visit. Indulge in the wonton in brodo, where classic meets Italian, and the har gow infused with fiery Calabrian chili. At Zitz Sum, rules are meant to be broken, and the result is a harmonious and daring blend of flavors paired with a punk rock playlist.
14) Check out an outdoor movie screening at New World Symphony SoundScape Park.
Picture this, lovebirds: a beautiful evening under the stars at the New World Symphony SoundScape Park, the ultimate date spot adjacent to the New World Center. Get serenaded by the dulcet melodies of the Miami Symphony Orchestra or immerse yourselves in the magic of a movie screening on their state-of-the-art "WALLCAST" system. Grab your boo, snuggle up on a cozy blanket, and pop the cork for a fun and enchanting wine picnic. With the stars as your backdrop, it's the perfect recipe for a romantic night, surrounded by elegant landscapes and the vibrant energy of South Beach.
15) Enjoy a romantic waterside picnic at Matheson Hammock Park & Marina.
Spread your blanket for a picturesque waterside picnic with your beloved at the enchanting Matheson Hammock Park & Marina. This expansive urban park, spanning 630 acres, offers beautiful views of Biscayne Bay at the southern end of Fairchild Botanic Gardens. There's a peaceful beachon the inviting atoll with a tidal pool that's naturally refreshed by the tides of Biscayne Bay. With its marina, snack bar, and restaurant housed in a historic coral rock building, Matheson Hammock has everything you need for a romantic retreat from the bustling city. Embrace serenity with a leisurely stroll along the park's nature trails, or suit up for adventure at one of Miami's premier spots to kite boarding.
16) Take a VIP wildlife tour at Jungle Island.
Hey, lovebirds! Get ready to swing into adventure at Jungle Island, the eco-theme park nestled between Miami Beach and Downtown Miami. To make your visit extra special, book a VIP private tour where lovebirds will hop along with adorable kangaroos, strut their stuff with a flock of fabulous flamingos, and have a meet-and-greet with exotic parrots, reptiles, and giant tortoises. Then, head over to Joia Beach, a slice of paradise right in the heart of Miami. Sink your toes into the soft white sand at the stylish beachside restaurant, featuring dishes like octopus carpaccio, watermelon and arugula salad, and burrata pizzetta. Joia Beach also knows how to throw a party. Dance the night away at epic weekly events like happy hours with DJs and live music.
17) Find the intersection of haute cuisine and haute couture on a tour of Miami's Design District.
Calling all food-loving couples! Get ready for a mouthwatering adventure on the Miami Design District Food & Art Tour, handcrafted by the culinary masterminds at Miami Culinary Tours. Prepare your taste buds for an epic culinary odyssey around the globe, right in the heart of Miami. From Asia to the Middle East, Latin America to the American South, you and your partner will savor chef-to-table dishes that will have your taste buds doing the tango. As you indulge in these delectable dishes, marvel at the mind-boggling sculptural and architectural masterpieces that showcase Miami's famous intersection of design and flavor. Let's go, foodie lovebirds!
Explore the Best Contemporary Dining on Our Miami Design District Food & Art Tour!
18) Dine on the water for dinner or brunch at the Rusty Pelican.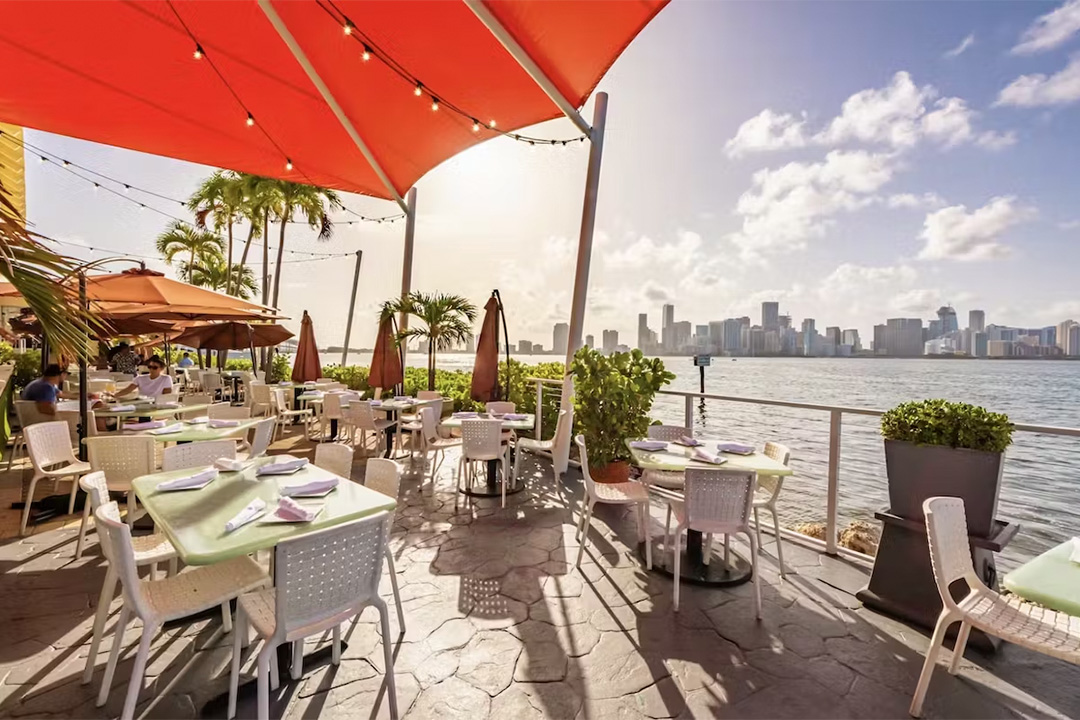 Take your taste buds on a romantic adventure to the Rusty Pelican, where Miami flavors meet waterfront wonders! Indulge in exotic Latin-inspired dishes and the freshest local seafood, with an extensive raw bar and shareable dishes like the Arroz Meloso for Two with shrimp & mahi mahi, creamy cilantro rice, and cornbread migas. Don't miss the impressive wall of wines, offering over a thousand varietals to choose from making it one of the best selections in the city. The Rusty Pelican boasts some of the finest waterfront vistas in Miami making this the perfect romantic date-night or Sunday brunch destination.
19) Root for the home team at a Miami Marlins Game.
Take your sweetheart out to the ballgame at LoanDepot Park, where you'll experience the lively atmosphere of a Marlins baseball game in Miami's vibrant Little Havana. This state-of-the-art ballpark boasts a retractable roof, keeping the venue cool during Miami's sweltering summer months. Explore the various seating options, from standing-room spots to party porches in the outfield, offering a lively social and interactive experience. Indulge in the mouthwatering food options, including delicious Cuban sandwiches, tacos, and ceviche. And for beer enthusiasts, don't miss the Biscayne Bay Brew Hall, where you can enjoy the Marlins Lager and pub-style food. Even if you're not a hardcore Fish Fan, you'll love all the things to do during the game at the ballpark.
20) Take in the sunset at Bill Baggs Cape Florida State Park.
Nestled at the southern tip of Key Biscayne, Bill Baggs Cape Florida State Park is not just about pristine beaches—it's a playground for you and your sweetheart of history, wildlife, and outdoor activities like ocean kayaking, windsurfing, and shore fishing. Steal a kiss at the top of the famous Cape Florida Lighthouse, the oldest standing structure in Miami-Dade County. Built in 1825, the lighthouse once guided mariners navigating the Florida Reef. Now, it serves as the park's most iconic attraction and the perfect spot for romantic moments overlooking the breathtaking coastline. Catch the sunset at the Cleat, the relaxed yet chic waterfront bar with world-class piña coladas. Every seat is perfect to watch the sun go down over sparkling panoramic ocean views.