Wine Depot & Bistro 555 was a feast event and it ranks among my top 5 places to have lunch in Miami Beach at the moment. When I walk into this place I am happy, think about when you first went to Disneyland, that is exactly how I feel. The ambiance and decor sets me up in the right mood, I want to try everything and drink until I am silly (well..., I can't drink too much as I usually stop here on my way to business meetings). This place is wine and tapas heaven.
SERRANO PLATE
This is a good start and I want you to know something about Bistro 555, all of their ingredients, cheese, etc. are of very good quality and the price, surprisingly affordable compared to other places at the beach. Jam? well, like a good French man, you always get the sweet part as a side note.
CHEESE PLATTER, with grapes, walnuts & bread basket
I think the pictures pretty much describes all of the elements here, serrano, manchego, brie cheeses - all of them very high quality. I do not like grapes with cheese but that's just me, those who know how to eat better than I do will tell you that grapes complement good cheeses (good for them).
HOMEMADE FOIE GRAS TERRRINE "AU SEL" Served with country bread toasts & onions jam
The foie gras (and hear me out on this one) was the BEST one I have ever had in my entire life. There are no words to describe the moment when I took the first bite, it was glorious.
SALMON TARTAR Mango, herbed citrus cream & toasts
I am not a huge fan of salmon but my friend is so we ordered the salmon tartar. I thought it was quite refreshing to combing it with mangoes. She mentioned this was delicious and the salmon was terrific, fresh and not too fishy (that's usually a sign of fish when it's not stationed for days). Oh, I forgot to mention about the country bread that they serve with almost every tapa you order at Bistro 555 - it's good, you can tell the bread comes here daily or they make it right here (sorry did not ask that to our waiter but I will next time).
OCTOPUS PROVENCAL
Tender, they probably followed the right way to cook octopus which my mother once showed me; you submerge the octopus three time in hot water, meaning you put it in for 30 seconds, you take it out for 1 minute and repeat the process three times, this will give you a good tender octopus because this creature can be a pain to chew afterward if you do not cook it the right way. At Wine Depot & Bistro 555 they know what they're doing.
VEGETABLES TARTAR
I had to call in the restaurant to ask for the name of this dish as you can imagine by the time I got to this one I was already numbed by the wonderful wine we were having. I think they couldn't really recall which one I was talking about. I was looking at the picture and telling them "there are many little things chopped and it looks like a small cake" - they told me it is called their vegetables tartar. I do remember the flavor because I never loose the sense of what is good once it hits my mouth even with 3+ glasses of wine. This dish full in flavors, the red bell peppers were a great accent to it. I just like things that are finely chopped, not sure why.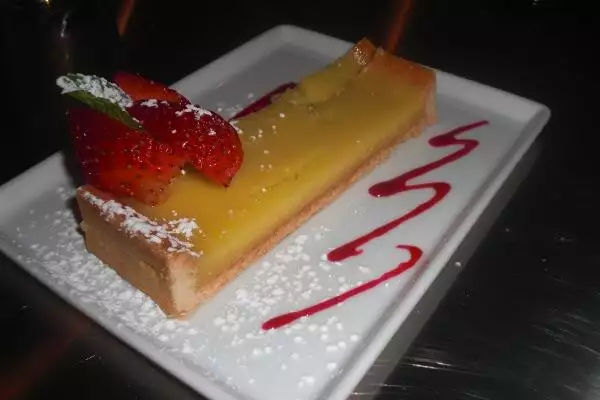 LEMON TART
This piece was a nice note to end the night, it is not that it was heaven but then again we are not at a French bakery. I would have liked the lemon part to be a bit softer but I am not the chef and it is not my decision.
Overall Wine Depot & Bistro 555 (that's a long name if you ask me) was a great experience and a place I frequent often lately. By the way, they also sell wine and the other day I made a quick stop to get a couple of Torrontes wines. The person who took care of me was friendly and knowledgeable about wines, that is great because that's what they do.
Wine Depot & Bistro 555
555 Jefferson Avenue - Miami Beach, FL 33139
Tel: (305) 672 6161
www.winedepotmiami.com